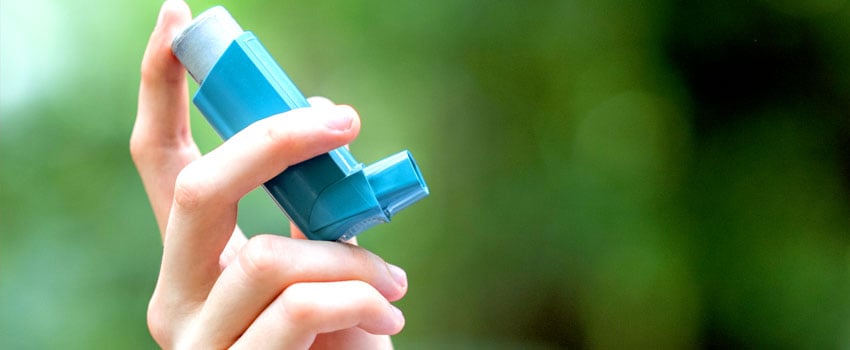 Asthma can cause shortness of breath, coughing, wheezing, and tightness in the chest, so it's nice to have something handy that can eliminate those symptoms fast. That's probably why your albuterol inhaler has quickly become your best friend! But there can be downsides to getting too much albuterol.
The question is, how do you know how much albuterol is too much?
When to Use Albuterol–at a Glance
Use your albuterol before hard exercise

Use your albuterol when you need it

Your program needs a change if you break either the Rule of 2 or the Rule of 4

Your program needs a change if your exercise control isn't working
Taking too much albuterol can have very serious consequences. Our main concern is that you will soon be having severe asthma attacks leading to hospitalization or worse.
The Rule of Two
National and Global Asthma Guidelines indicate that a well-controlled asthmatic will need their rescue inhaler 2 or fewer times a week, most of the year. This is referred to as the "Rule of Two." If you follow the rule of 2, you'll generally use a maximum of 208 puffs of albuterol per year, which is less than one inhaler.
This means if you use more than one inhaler in a year, you may be using "too much" albuterol. And if that's the case, you could need a better controller or prevention program. Be sure to talk to your doctor or asthma specialist about how you can best accomplish that given your symptoms.
The Rule of Two:
Those who have well-controlled asthma will usually need to use their rescue inhalers no
more than two times per week.

Each inhaler is typically designed to administer two doses of medication at a time.

This means an asthmatic following the rule of two will use less than 208 doses of albuterol per year.

That means most people who have their asthma well under control will require no more than one inhaler per year.
Of course, most patients prefer to use their inhalers zero times per year, but that's not always realistic! Following the Rule of Two is a good baseline to use when evaluating the frequency of your inhaler use. If you feel like you're using your inhaler too often, contact our office!
The Rule of Four
Another way I evaluate my patient's asthma is by evaluating how often they need their albuterol over a short time period.
The so-called "Rule of Four" says that you should be evaluated immediately if:
You need to use your albuterol inhaler more than every four hours OR

You need to use your inhaler more than four times in a 24 hour period
These presentations indicate that fast intervention is needed to gain control of your asthma. The treatment provided can range from systemic steroids all the way to simple allergy avoidance (such as politely leaving your cat-owning friend's house if you are allergic to cats).
Some studies show that a portion of patients who use albuterol four times a day as a routine may find that their asthma grows worse due to the practice. As a result, most asthma specialists will recommend finding ways to better control your symptoms.
Albuterol and Exercise (The Exception to the Rules)
When I talk about the Rule of Two or the Rule of Four with patients, I usually get a lot of questions about exercising. Usually, your asthma specialist will advise you to utilize your inhaler prior to vigorous exercise. The two puffs of albuterol you take before exercise do not count in the Rule of Two or the Rule of Four.
However, if you find that you're still having asthma attacks even after utilizing your inhaler prior to exercise, then you should see your asthma specialist to adjust your asthma program.

The Less Albuterol, the Better
When you can't breathe, you know as well as any other asthmatic that you will do just about anything to get your breathing back to normal. Asthma attacks can be a frightening experience! Being a doctor that specializes in asthma treatment, the frequency of albuterol use is one of the tools used to gauge asthma control – less albuterol means better asthma control! We now have so many asthma controllers to choose from—working together we can find the right program for your particular type of asthma.
That said, if you're experiencing symptoms, it's appropriate to address those symptoms with your inhaler. We use the Rule of Two and the Rule of Four not to restrict your inhaler use, but to identify when your asthma could use a little more clinical attention. The goal of that clinical attention is to let you forget about your inhaler for a while–or, at least, not use it so often.
Trust me, your albuterol inhaler won't mind not being your best friend!
What can you do if you are using too much albuterol?
If your asthma is not controlled you suffer from the shortness of breath, cough, wheeze, and tightness of the chest of asthma. Asthma flares can and do lead to unplanned visits to your physician, ER, hospitalization, and occasionally death. When you are ill all you want is relief.
We have to think both short and long term for control of asthma flare-ups.
Short term you need relief now. You are already going to be using the albuterol. Most often we need to add systemic corticosteroids. Sometimes getting away from an allergen can help. If things worsen, oxygen and help ventilating may be critical. So, if you aren't doing well you have to get seen.
Long term we want to prevent future flare-ups of asthma. Getting on the right controller or prevention plan is key. Your allergist has the choice of many types of controllers and must match your type of asthma with the right treatment plan. You the patient has to be an active member of the treatment team for this to work!
Controller options include:
Inhaled corticosteroid inhalers
Allergen avoidance
Allergy shots
Combination inhalers with inhaled corticosteroid and long acting bronchodilators
Leukotriene blockers

Anticholinergic agents inhaled
Anti-IgE biologic therapy (shots)
Biologic therapy blocking IL-4 or IL-5 (shots)
Bronchial thermoplasty
Daily oral corticosteroids
Of these, the inhaled corticosteroid is the main choice for asthma control. Other treatment is then added if needed.
If you are breaking "The Rule of 4" or "The Rule of 2" it is time to get your asthma tuned up! See your allergist or primary provider soon and enjoy the control!
If you have questions or concerns about your asthma program, feel free to contact Dr. Bubak at Dakota Allergy and Asthma at 605-336-6385.
* Last updated June 10, 2021.